(CNN) — This is the era of the glass and steel airport.
As if made from the same mold, shiny, glittering terminals have become a status symbol for any city with aspirations.
But all of this is a world away from the remoteness of Russia's Arctic regions and the Siberian wilderness.
Here you'll discover an entirely different type of airport, built in the mid-20th century when the Soviet Union saw in air transport a way to expand the state's reach to every corner of its territory, even if that meant little more than a dirt runway and a radio shack.
You won't find huge duty-free shops, fast food joints or big-name fashion brands, but Russia's wooden airports have a beauty of their own.
Some are a little dilapidated, but even then their frailness and simplicity give them a unique and charming character.
Here's a travel guide to some of Russia's most remarkable wooden airports. But a warning to would-be visitors: Although many of them see regular airline service, getting there can be quite an adventure.
Solovki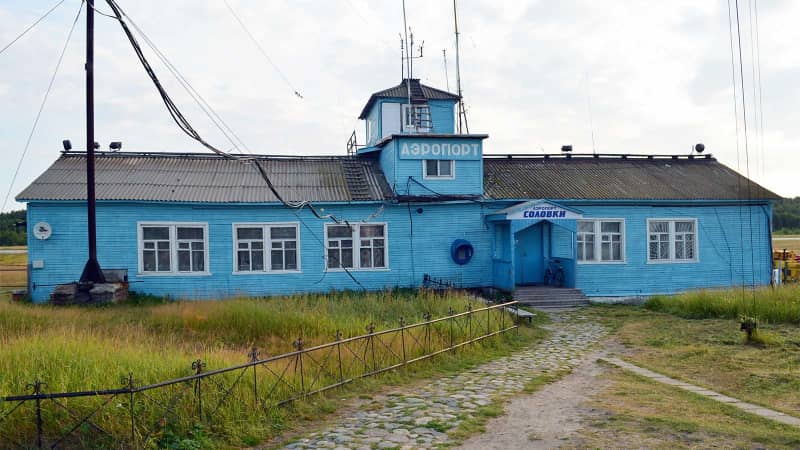 Solovki Airport was built in the pre-war years and used by the Soviet air force during World War II.
Visem/Wikimedia Commons
Solovki Airport is the gateway to the Solovetsky Islands, an archipelago located in the White Sea, right below the Arctic Circle in the European part of Russia.
Solovki is possibly the most touristy airport on this list, thanks to visitors who come to see the 15th-century Solovetsky Monastery, an architectural wonder also built entirely in wood, which has been granted World Heritage Site status by UNESCO.
There's regular service from here to Arkhangelsk, one of the major cities in northern Russia.
Letnyaya Zolotitsa
Also on the shores of the White Sea, but on the mainland and not far from the aforementioned Solovetsky Islands, this airport serves a tiny settlement whose name translates as "Summer Gold."
The 180 local inhabitants have the company of a colony of harp seals, a local attraction that keeps visitors coming … by air, of course.
Mezen
A bit farther north, but still in the region of Arkhangelsk, is Mezen Airport, whose wooden structure is painted a distinctive pale blue.
It was built during World War II at a spot that had already been hosting, since the 19th century, a weather station.
It currently handles some 6,000 passengers per year and also serves as a stepping stone to reach even more remote locations throughout the Russian north.
Seymchan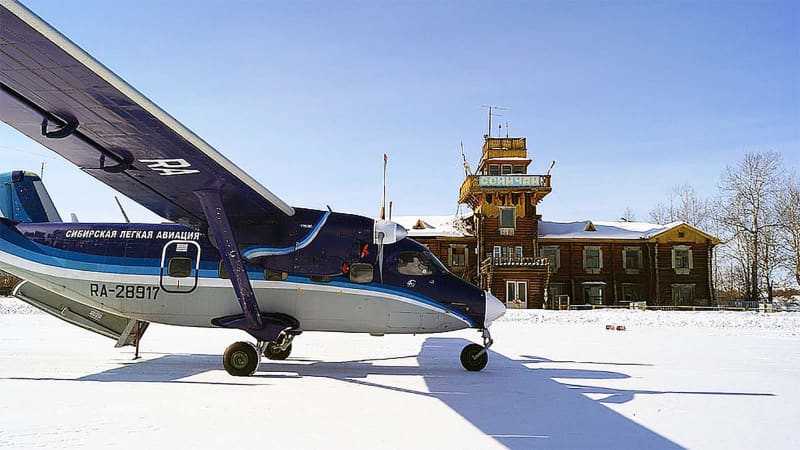 Seymchan is one of the prettiest of Russia's wooden airports.
sever.aero
However, during World War II it became part of a busy air corridor, the ALSIB, the Alaska-Siberian air route that delivered essential supplies from the US to the then-allied Soviet Union. Seymchan's airport, with its fairytale-like charm, was built in 1942 as part of that war effort.
The airport has regular service to Magadan, the regional capital.
Uorgalan, Nel'kan and Mar-Kyuyel'
Seen from afar, you could mistake Uorgalan Airport for one of those hotels built in faux-Alpine style that are so common at mountain resorts all over the world.
Uorgalan Airport is indeed located in a mountain area, but a very special one.
The Kondyor Massif is a rare geological formation: an example of a perfect circular intrusion — that is, a crater-like circle of mountains of volcanic origin.
The role of the airport in this distant corner of Khabarovsk Krai, in Russia's Far East, is to service a platinum mine in operation right at the center of the Kondyor Massif.
Also in the same region, you can find wooden airports at Nel'kan and Mar-Kyuyel'.
Belaya Gora, Olenyok, Nyurba, Ust-Kyuga, Srednekolymsk and Verkhnevilyuysk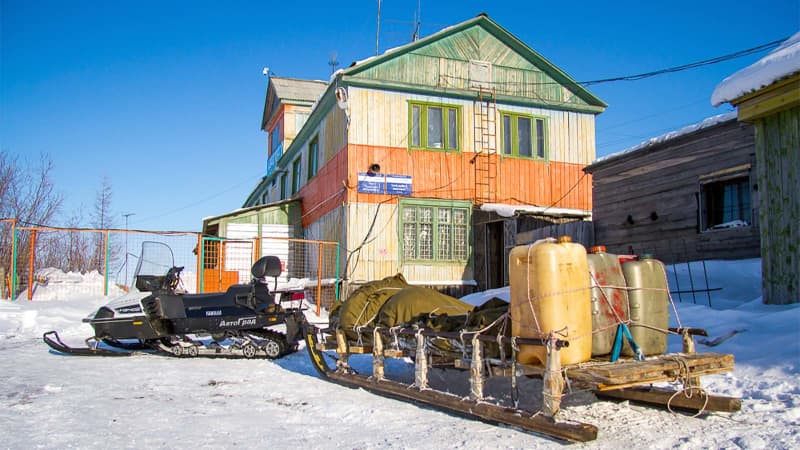 Ust-Kuyga serves a local population of fewer than 1,000 residents.
Kirill Skurikhin/Wikimedia Commons
Fewer than a million people live in the Sakha Republic, also known as Yakutia, a Siberian territory nearly five times the size of France, a large part of it made of endless expanses of taiga forest.
No wonder then that wood is the material of choice for many of the airports that dot this vast region, where air transport is often the only way to reach isolated communities.
Turukhansk, Yeniseisk and Khatanga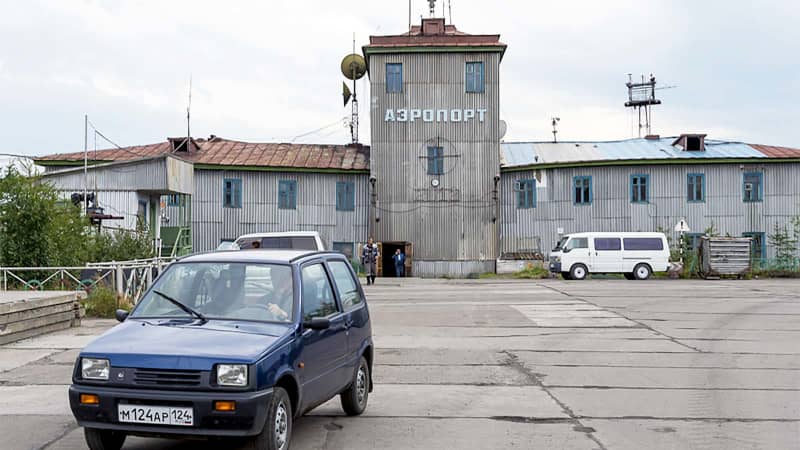 Khatanga is one of the busiest airports in the Russian Arctic.
Sergey Dolya/sergeydolya.livejournal.com
Next to the Sakha Republic is Krasnoyarsky Krai, another huge region with its share of wooden airports.
Three of the most remarkable are Turukhansk, whose old terminal resembles a large barn, Yeniseisk and Khatanga.
Although its facilities are somewhat dilapidated, Khatanga is one of the busiest airports in the Arctic confines of Russia, with over 34,000 passengers in 2017.
It's a staging post for polar expeditions and it has also been designated a diversionary airport for aircraft flying over the uninhabited expanses of Northern Siberia.
Khatanga Airport is capable of handling mid-sized jet airliners such as the Tupolev Tu-154, or even the larger Ilyushin Il-86, and it currently has scheduled service to the regional capital, Krasnoyarsk, as well as the Arctic mining town of Norilsk.
There are plans to upgrade the airport infrastructure.
Igrim
In the oil and gas basin of Western Siberia, Igrim Airport has a wooden terminal and what is surely one of the longest dirt runways supporting commercial operations in Russia.
It handles scheduled and seasonal flights to several larger cities in the region, such as Khanty-Mansiysk,Tyumen and Surgut.
Chara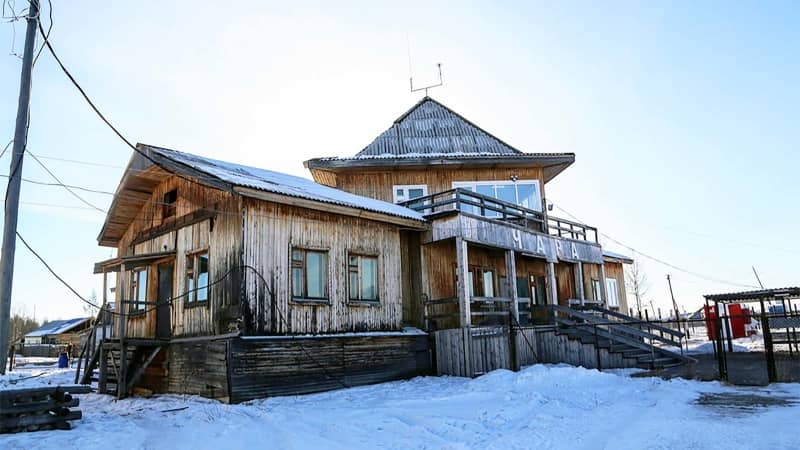 This airport serves the village of Chara, which was once the center of the Trans-Baikal Gulag.
zavodfoto.ru/zavodfoto.livejournal.com
It might look like a hunting lodge, but some 8,000 passengers a year use this airport, which only operates during daylight hours.
Local carrier Angara Airlines operates scheduled flights to the regional capital Chita, near the shores of Lake Baikal.
Khuzhir
And while we're talking Lake Baikal, a mention is due to Khuzhir, another example of Russian wooden airport architecture.
Although it's located on Lake Baikal's Olkhon Island, a tourist destination in its own right, Khuzhir Airport has been officially closed for more than 20 years.
Yet this hasn't deterred former pilot Vladimir Prokopyev and his wife Herolda from continuing to watch over it and keep it service-ready, as in the old Soviet times when it was visited three or four times a day by 12-seater An-12 aircraft. Even the radio set is in working order.
Nowadays only the occasional sports plane makes an unscheduled stop, yet the elderly couple who call this airport home have preserved it as a time capsule from a bygone era.