(CNN) — The world's biggest twin-engine jetliner is almost here.
Boeing has finally provided a glimpse of the upcoming 777X-9 aircraft, the first aircraft of its next generation 777s. The "fully assembled" static test plane was rolled out at the Boeing facility in Everett, Washington, earlier this month.
While it will never take to the skies, the aircraft is to undergo almost a year of testing on the ground to verify the structural strength and accuracy of the design.
Although the airframe is largely complete, it's missing some components, such as engines and an avionics system.
Static testing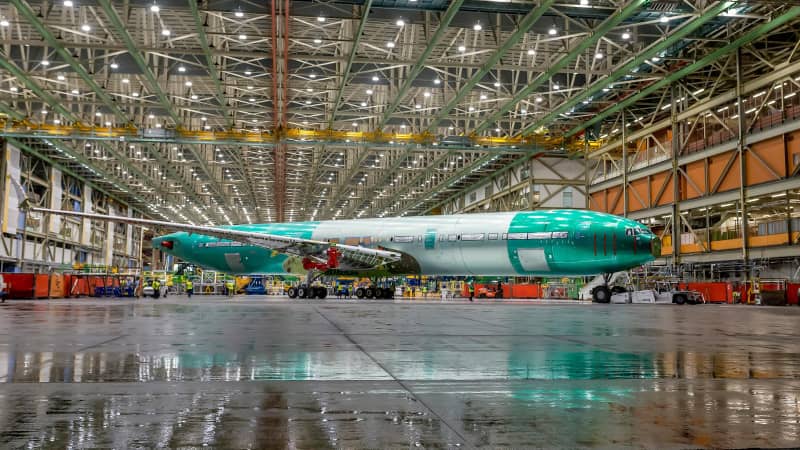 Boeing has rolled out a "fully-assembled" 777X-9 static test plane.
Boeing
"Static test is our opportunity to verify the design of the structure and load bearing components of the airplane, ensuring the final product is safe for our customers and the flying public," says Doreen Bingo, Boeing Test and Evaluation 777X Test Program manager.
"Using a full-scale airplane, we'll run various load conditions on the wings, gears, the struts and the fuselage."
Once completed, the 777X-9 is to have the widest wingspan of any aircraft in the company's 99-year history: 235 feet, five inches.
Its hinged wingtips alone measure 12 feet, with locking pins to prevent them from folding during flight.
The wings give the airliner extra lift, similar to that of a giant sailplane glider, helping the plane to save an overall 12% more fuel than the Airbus A350, according to Boeing.
They've been tested at one-and-a-half-times the designated load during previous static tests, resulting in a wing flexing more than 26 feet.
Engineering revolution
Seating 350 to 425 passengers, the airliner is due to debut in 2020, with test flights beginning next year.
Boeing says its operating costs will work out 10% lower than that of the A350-100.
The plane's range is expected to reach more than 14,000 kilometers (8,699 miles) — about the distance between Dubai and Panama City.
Several airlines have already placed orders, including Emirates, All Nippon Airways and Lufthansa.
Boeing's new X family comes as part of an engineering revolution allowing jetliners with only two engines to take on many of the same global routes as larger, fuel-guzzling four-engine airliners such as the 747 and the Airbus A380 Super Jumbo.
Initial versions of the 777 have been flying for two decades. However, notable changes include a longer, composite wing and a GE9X engine.
The 777-8X, which will have a longer range but a smaller capacity, is also in the works.