After a summer of strikes and other disruption, profits at Europe's biggest budget airline have fallen by 7 per cent to €1.2bn (£1.057bn).
Ryanair also warns: "The risk of a hard ('no-deal') Brexit in March 2019 is rising. While we hope that a 21-month transition agreement from March 2019 to December 2020 will be implemented (and extended), we remain concerned that the time to complete such an agreement is shortening."
It has already warned that flights between the UK and EU could be grounded temporarily if no aviation agreement is reached.
"In the event of a hard Brexit our UK shareholders will be treated as non-EU. In such an event the board will restrict the voting rights of all non-EU shareholders (and confine them to selling shares only to EU nationals) to ensure that Ryanair remains majority owned and controlled by EU shareholders."
The airline says that average fares have fallen by 3 per cent due to excess capacity in Europe. It also blames strikes and staff shortages at air-traffic control (ATC) centres, "which caused a spike in cancellations of higher fare, weekend flights".
While revenue from ancillaries – from seat reservations to on-board sales – have risen by 27 per cent, the airline has incurred sharply increased costs for fuel and staff, with pilots receiving pay rises of up to 20 per cent. 
Passenger welfare costs have also increased. Customers whose flights are cancelled are entitled to hotel beds and meals. Seats on replacement flights also represent significant costs.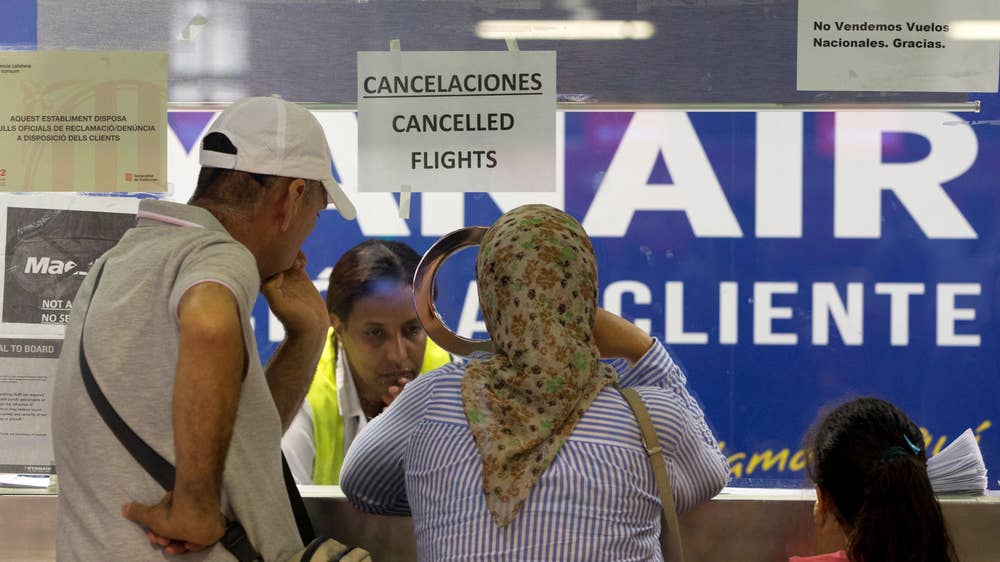 Michael O'Leary said: "Our traffic, which was repeatedly impacted by the worst summer of ATC disruptions on record, grew 6 per cent at an unchanged 96 per cent load factor."
Ryanair recognised trades unions only in December 2017, and since then has suffered a series of coordinated stoppages by pilots and cabin crew. The airline claims that in Germany, Spain and Portugal, "competitor employees have interfered to delay agreements with our people and their unions". 
It warns: "While we hope to finalise more union agreements in the coming months, we cannot rule out occasional industrial action, but we expect their impact to be very limited."
After the collapse of Primera Air and Cobalt of Cyprus so far this month, Ryanair says: "It is inevitable that more of the weaker, unhedged, European airlines will fold this winter."
"We expect more failures this winter and we cannot rule out further capacity cuts or base closures in Ryanair if oil prices rise or air fares fall further.
"Over the medium term, this consolidation will create growth opportunities for Ryanair's lowest fare/lowest cost model.
"Winter trading may be positively impacted by the rate and timing of other airline failures which is already creating a ready supply of well trained pilots and cabin crew for summer 19 growth."
The airline says that 90 per cent of its fuel requirements are hedged at $68 per barrel, below the current spot prices of over $80, but estimates its fuel bill will be €460m (£405m) higher than last year.
At the start of October the airline's shares dropped 10 per cent when it cut its profits forecast by €150m (£133m), blaming the effects of strikes and the rising cost of oil. 
The airline's bases at Eindhoven in the Netherlands and Bremen in Germany are to be closed for the winter, while two of the five aircraft at Niederrhein in western Germany will be removed.
Ryanair remains by far the most profitable airline in Europe, as well as the safest in the world when measured by passengers carried without a fatal accident.
It has faced intense criticism over an incident in which a white male on a flight about to depart from Barcelona to Stansted launched a tirade of racist abuse against a black fellow passenger.
The man was allowed to continue to fly, while the woman he abused moved to a different seat.