Whether it's true that in London you're never more than six feet from a rat, it's definitely true that on the Isle of Skye you're rarely more than a minute away by car from water: whether loch or sea. 
This ancient wing-shaped island – the "winged isle" in Gaelic – is 50 miles top to toe and 25 across. There are 400 miles of coast, due to its distinctive peninsular extrusions, across which weather sweeps to kaleidoscopic effect, from lead-grey to piercing sunlight flashing the hills tweedy green, brown and vivid gorse-yellow. Sometimes baleful blue, sometimes flaring orange, igneous and metamorphic mountains surge up with boiling fury to where eagles soar. Rather than cutting through these prehistoric ramparts, most principal roads run around their edges, giving constantly changing watery views. To get about, driving is essential. 
The extent of my previous Highland experience was limited to the romantic 1945 Powell and Pressburger film I Know Where I'm Going!, in which Wendy Hiller takes a sleeper to an invented Highland island to marry one man, but falls for another. And since I don't drive and avoid flying, when a friend moved here two years ago, I determined to visit – by sleeper. Robert had sent tantalising photos of the world-famous Cuillin mountain range of 60 million-year-old glaciated lava; of dramatic lochs; of black-faced sheep nimbly scrambling up high hillsides, and of Skye's numberless bays and inlets. It looked like paradise: though one involving lots of jumpers.
My plan was just to mosey around and try not to irritate the locals with my southern ways. Skye is the second most popular Scottish destination after Edinburgh, and its 10,000 inhabitants see tourism – especially the cars and camper-vans clogging the narrow, rough roads, some with hairpin bends – as a mixed blessing. But the local business of crofting (small-scale food production) has died out, so tourism, agriculture, fishing and forestry are the main industries. However, Robert had told me of young islanders who'd started community-led ventures, which I was keen to see.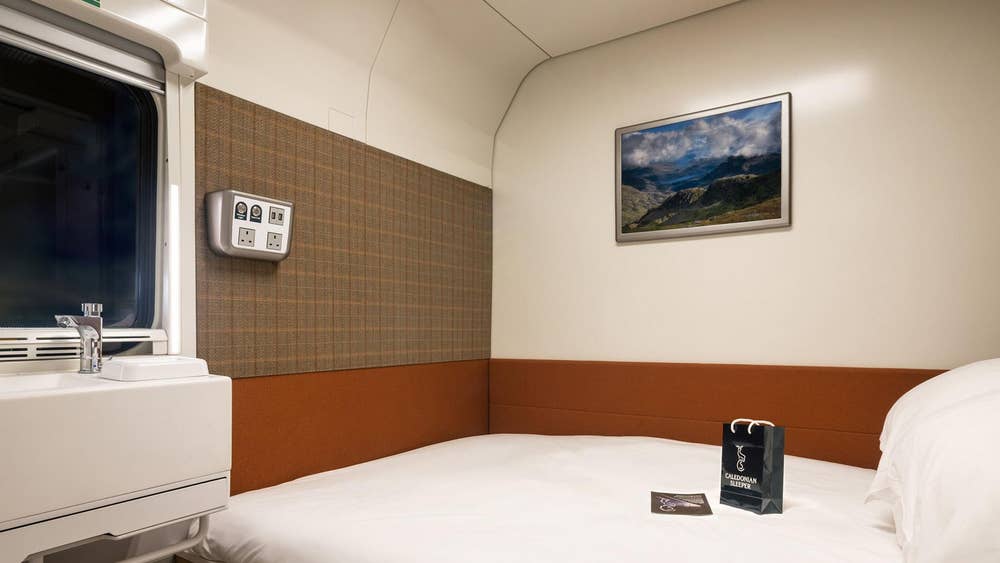 It's a hell of a way from London to Skye by sleeper – more than 14 hours. I'd studied timetables in case daytime trains could be cheaper, changing at Glasgow or Inverness; but the need to stay overnight somewhere foxed that. And a sleeper return costs loads more than flying. But if you adore trains, taking things slowly and taking them in – along with saving the planet and channelling the Orient Express – there's really no alternative. And after the sleeper comes the delightful two-and-a-half-hour cross-country single-track chuffer from Inverness to Kyle of Lockalsh, the gateway to the Skye bridge. This gorgeous ride bombards passengers with near-constant panoramas of loch and sea, connects neatly with the sleeper, and has a coffee cart. It ran on perfect time.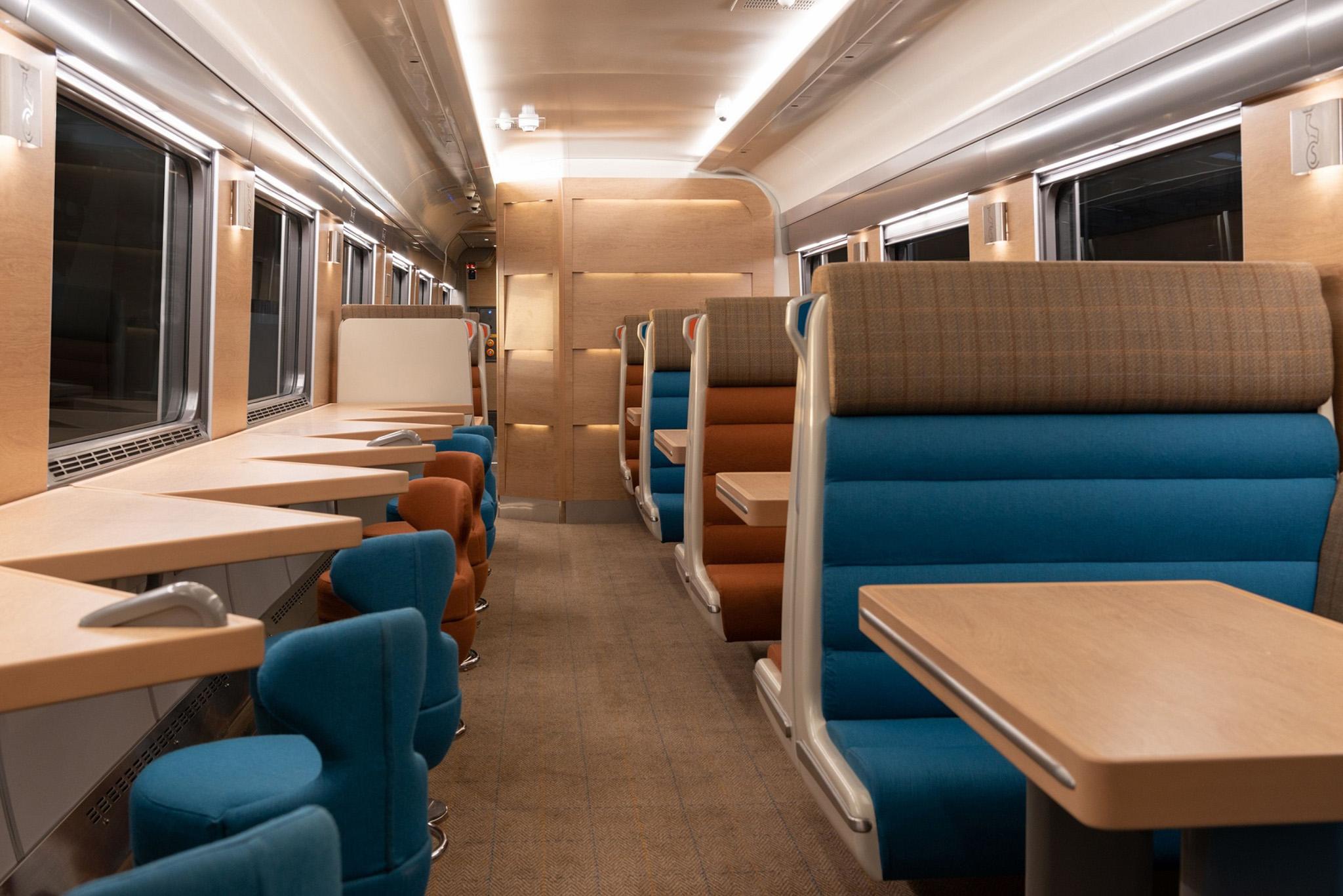 We pulled out of Euston at 9.15pm. The much-vaunted new Caledonian Sleepers have been beset by delays on the Highland line. The latest update is that they're "unlikely" to replace the old bone-shakers with their rather tired blue cabins before September, though they're already running up to Edinburgh and Glasgow. Seasoned passengers, fond of the faded grandeur and charming stewards aren't bothered, but the new trains offer a smoother, quieter night's sleep. Their boutiquey decor of beiges and tans is suave; cabins have a cuter basin and some even have loos and showers – extraordinary luxury after lurching along narrow corridors on the old trains to find the bog occupied or out of order. The doors have key cards, whereas currently anyone can invade your cabin if you aren't in it. And on the new trains, as well as wifi, you can still get a Famous Grouse for £4.20, whether in a cabin or a seat.
Once on Skye, many walkers base themselves in the diminutive capital Portree on the southernmost part of the Trotternish peninsula. It offers boat tours, has a big Co-op, restaurants and a photogenic curved harbour ringed by old houses. However, I was off the beaten track, where on walks the silence was broken only by loud bees, birdsong and an occasional burn. It felt centuries away from city life.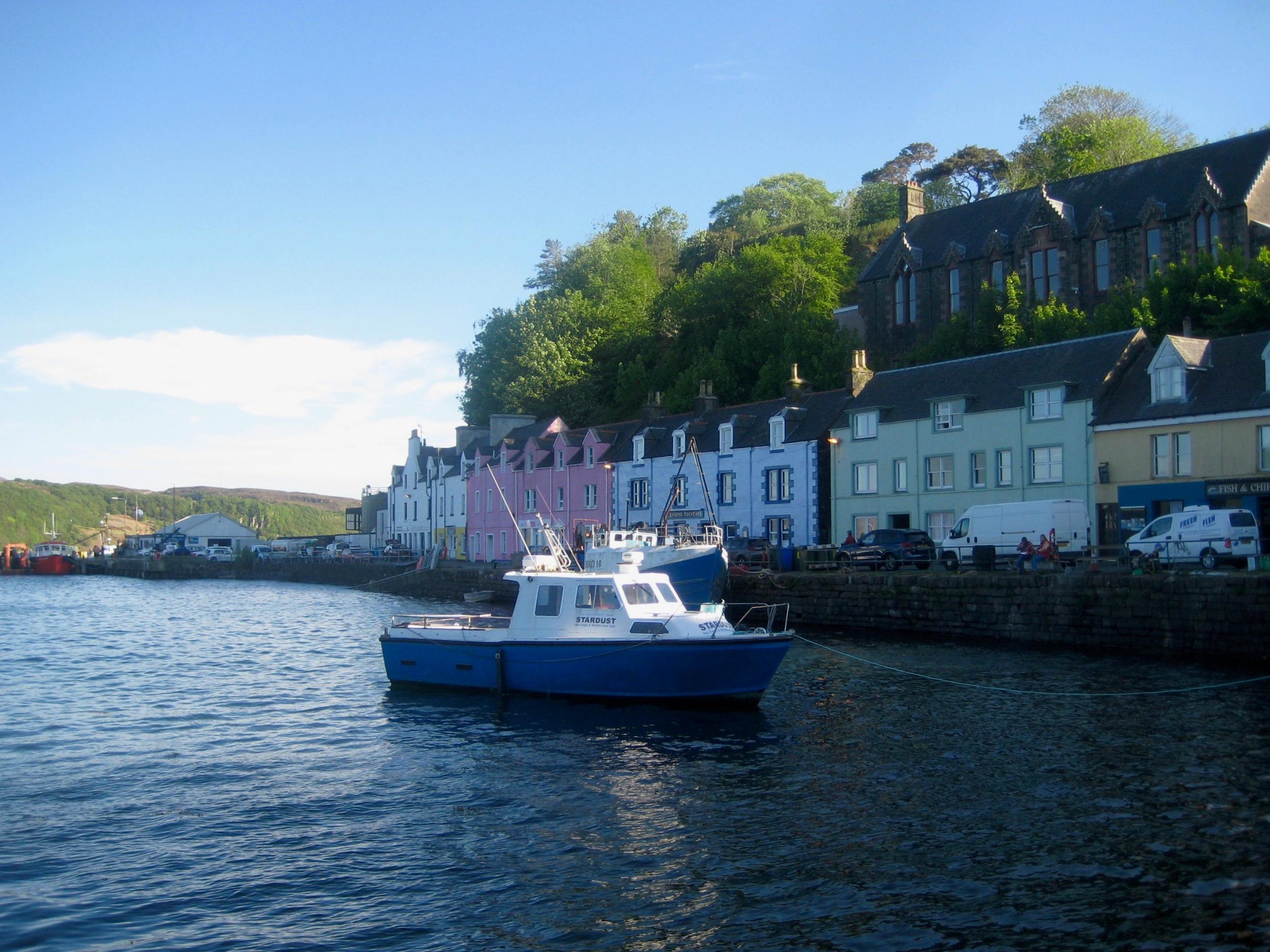 My modest wish list included a tour of the Talisker distillery at Carbost, the only whisky distillery on Skye. I was surprised by how complex its manufacture is, and that it matures at least three years in an oak barrel before getting called whisky. I loved the towering copper stills, like gigantic fantasy wind instruments. 
But what most impressed me, apart from the jaw-dropping grandeur of the sheep-dotted landscape, were young entrepreneurs. On the north coast of Loch Harport, we lunched in the Bog Myrtle cafe and book shop – a big second-hand bookshop holding a friendly and charming cafe run by young marrieds Andrew and Firuza Annis. Fresh soup with bread was £4.25. The cakes are homemade, and there was – of course! How soon it became natural – a wide view of water thrown in.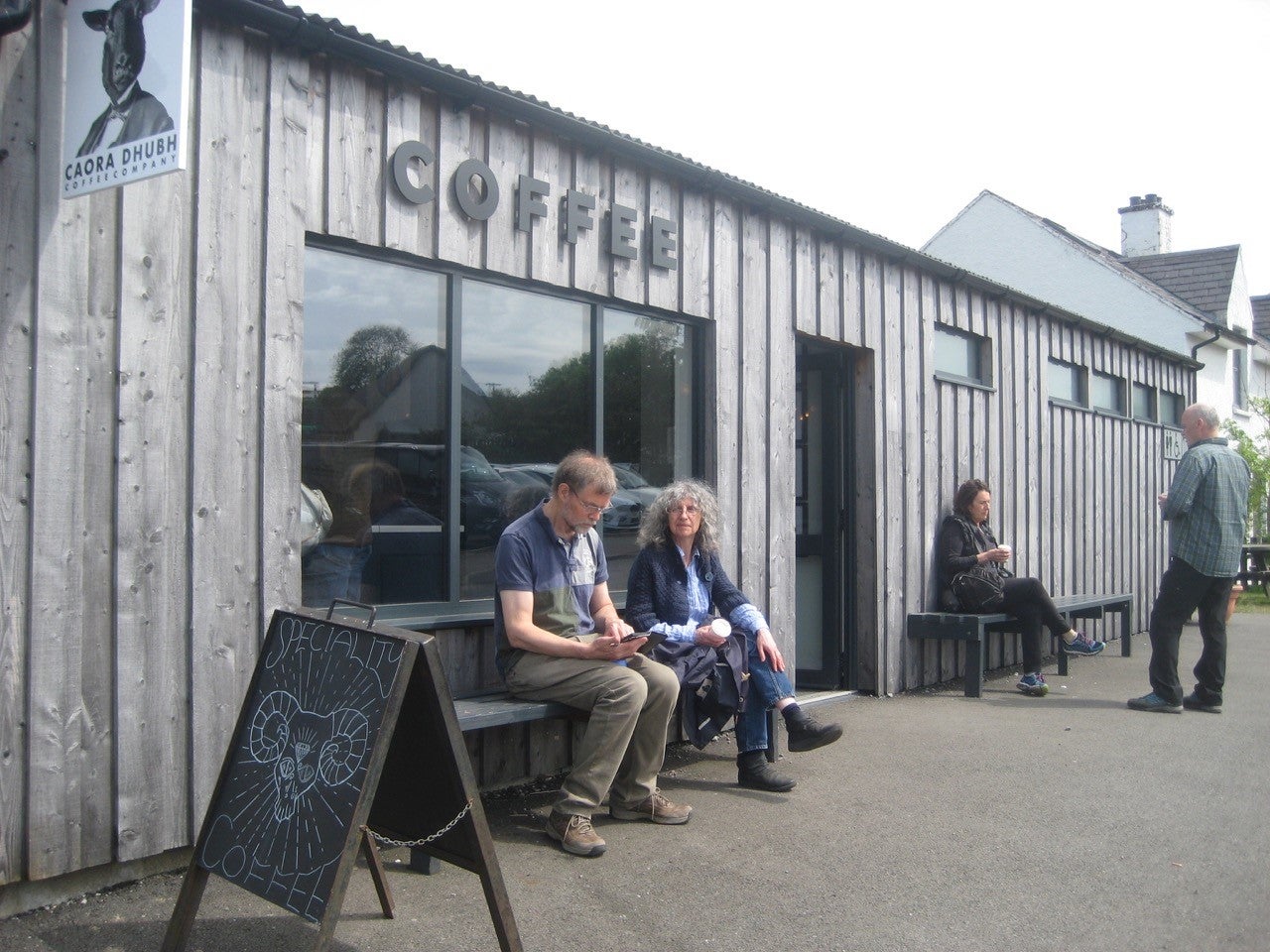 Opposite the Talisker Distillery, Jamie Fletcher runs a groovy coffee shack called Caora Dhubh (Black Sheep). He's a delight, the coffee was great (espresso £2.20), and people lounged happily in the sun on a bench outside. For a moment – dare I say it – it felt almost urban. 
For a grand treat we sampled the weekend tasting menu at renowned gourmet destination The Three Chimneys on the shores of Loch Dunvegan. It's surprisingly soothing to watch chefs working away as you devour six picture-perfect courses in a memorable two-hour experience.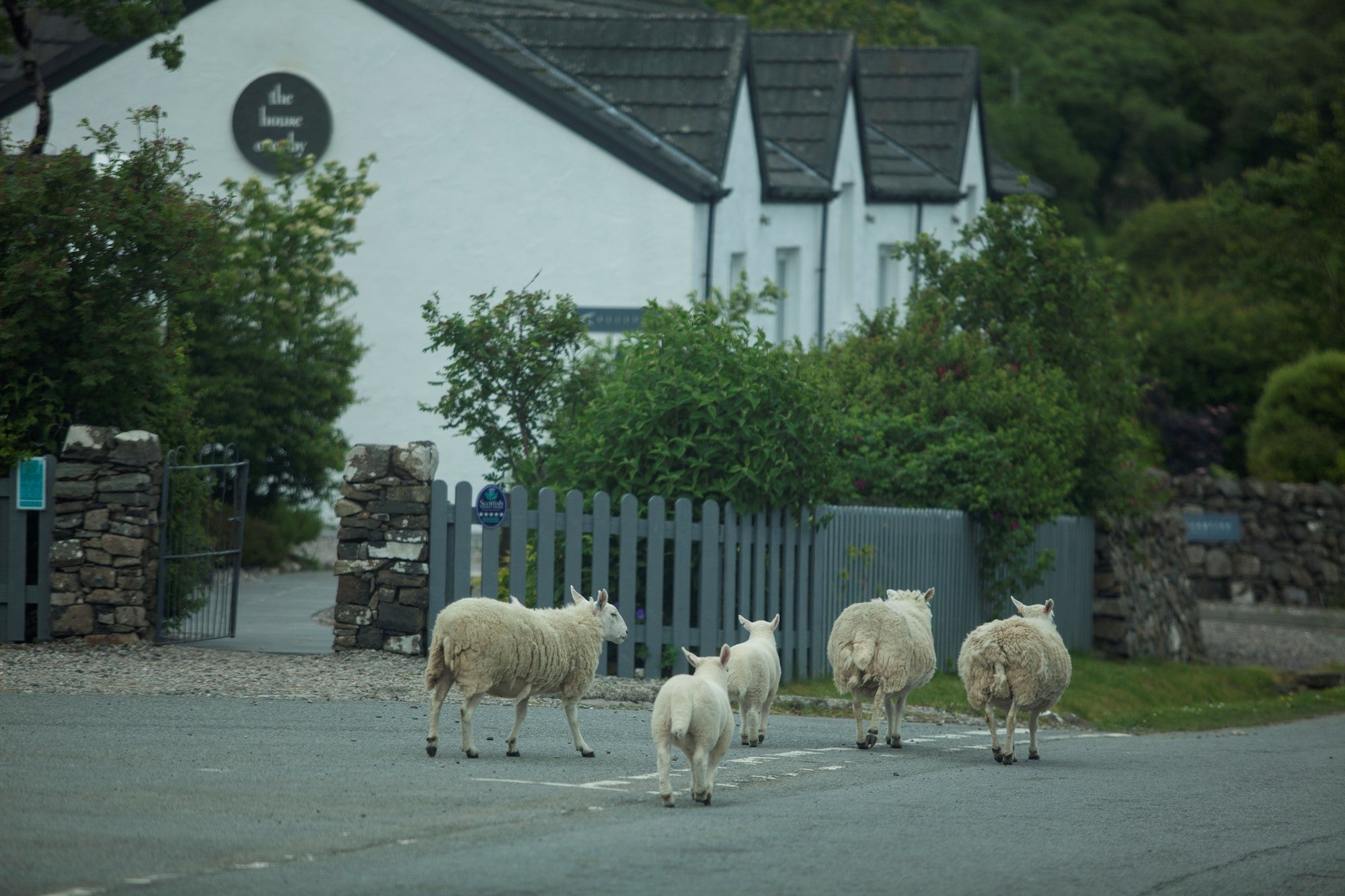 After three days on Skye, I toyed with exchanging rats for untamed weather that dazzles or drenches, monumental hills and crags; and sea-light from limpid aquamarine to palest rose quartz – but hell, I still can't drive; and hey ho, somewhere in another world the sleeper waited.
Travel essentials
Getting there
Seats on the new Caledonian Sleeper from £45, classic rooms (no en suite) from £140 single occupancy, club rooms (with en suite) from £205 single occupancy, double bedroom (with en suite) from £400 shared. All fares are one-way. 
An Anytime return on the train from Inverness to Kyle of Lochalsh costs £41.
Visiting
there
Talisker Distillery offers tours starting from £10, and a fully stocked shop has 70cl bottles from £40. 
Caora Dhubh (Black Sheep) Coffee Company
Bog Myrtle cafe (and bookshop)
The weekend lunch tasting menu costs £65 (drinks extra) at The Three Chimneys restaurant with rooms.